The DYMO Labelwriter
"What is this Dymo Labelwriter I'm
always hearing about ?"
DYMO was founded early in 1958 and has grown ever since, producing all sorts of different labeling machines they call "Labelwriters." DYMO has countless products, from simple embossers to complicated industrial machines. But they mainly advertise their home and work products; Labelwriters that connect to your computer, and print labels such as return address labels, mailing labels, even stamps; eleminating trips to the post office. Some products such as the Dymo Labelwriter Twin Turbo will print your mailing label and stamp at the same time.
Products for the home and office
The image on the left shows a handheld Dymo labelwriter. This handheld model is great for organizing anything from canisters, cartons, and containers; to bags, bottles, and boxes!
For instance, When it comes time to tackle that kitchen pantry again this year, you will find that the Dymo handheld is great at labeling those storage tins you save every Christmas.
This version doesn't need any computer. It's simple to use; just type in what you want your label to say and press "print."
This model usually goes for around $20.00, making it the least expensive Dymo out there.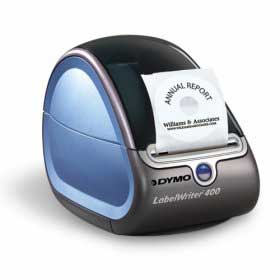 Dymo has other labelwriters other than the hand held. They have models like the version to the right that hook up to your computer via USB. This particular model prints 40 characters a minute, making it great for printing a few address labels if you need to send off a couple letters. This model will print anything from name badge labels, to cd labels. When you're done writing your letter, you can not only print your label, but you can also print your stamp, making this a real time saver. No more lines at the post office to buy stamps! This one is great for use at home and office.
This particualar model is more expensive than the handheld. This model's price is around $90.00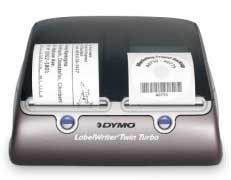 This heavy duty model is the "Dymo Labelwriter Twin Turbo." This label printing moster was designed for speed. It has produced labels at speeds clocked at one label per second! Since this Dymo has two printers, it is able to print your return address label, and your stamp at the same time. As you can see in the picture to the left, you can even create barcodes if you have to. This machine hooks up to your computer (windows or mac) via USB. It comes with software so you can custom design your own labels.
This Dymo label writer usually costs around $170.00